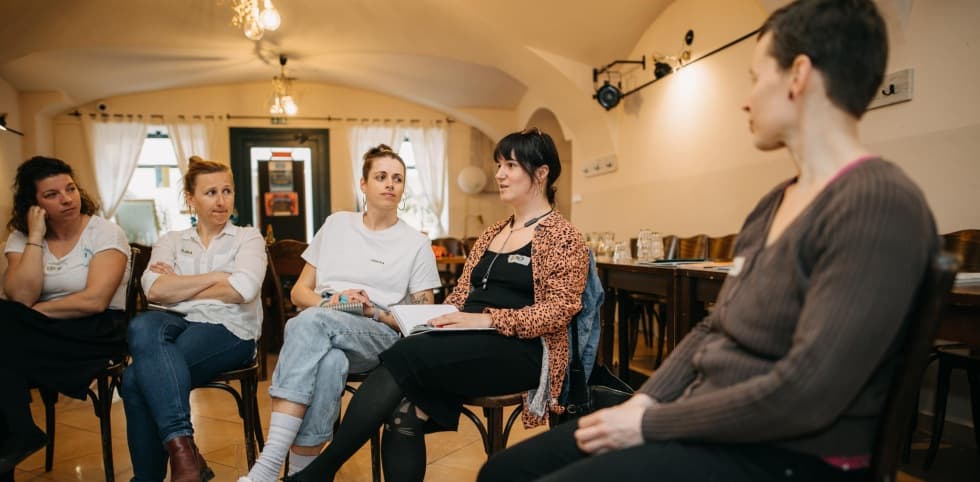 As part of the first round of candidacy, we announced a grant program together with the city
The aim was to support projects of Budweis actors in areas that are important to us in the candidacy:
Capacity building of cultural actors (professionalisation),
cooperation of cultural actors within the region, as well as abroad,

environmental overlap of cultural projects.
Existing cultural activities and the launch of new projects that will contribute to the success of the candidacy and the title year itself were both supported.
We have prepared a project preparation and grant application manual for the call - in it you will find the terms and conditions of the call. In addition, we organised an introductory seminar and two accelerators for interested parties to consult in order to bring their projects forward.
Academy for Living Culture
The Academy for Living Culture is a project focused on the professional growth of organisers of cultural, social and community events, whether individuals or organisations across all types of operations. It is implemented on the principle of discussions, roundtables or workshops.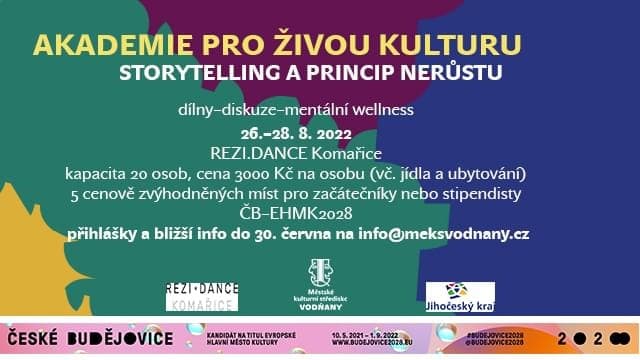 ORGANISATION
REZI.DANCE operates at the intersection of the liberal arts and the creative industries, and is open to artists, artist groups, but also cultural managers or entire organisational teams. The connection with the village of Komařice is emphasised, folklore traditions are maintained and a responsible approach to the environment is cultivated.
11th – 12th of November, 2022 Výměník1, České Budějovice
Young Capacity Incubator for the Cultural Sector in Budweis
The project is aimed at training members of the Budweis Majáles organisational team through specially focused workshops and other educational means. Thanks to them, the knowledge and experience gained during the organisation of the previous years of the festival will be deepened and the organising team, as well as the festival itself, will be gradually professionalised.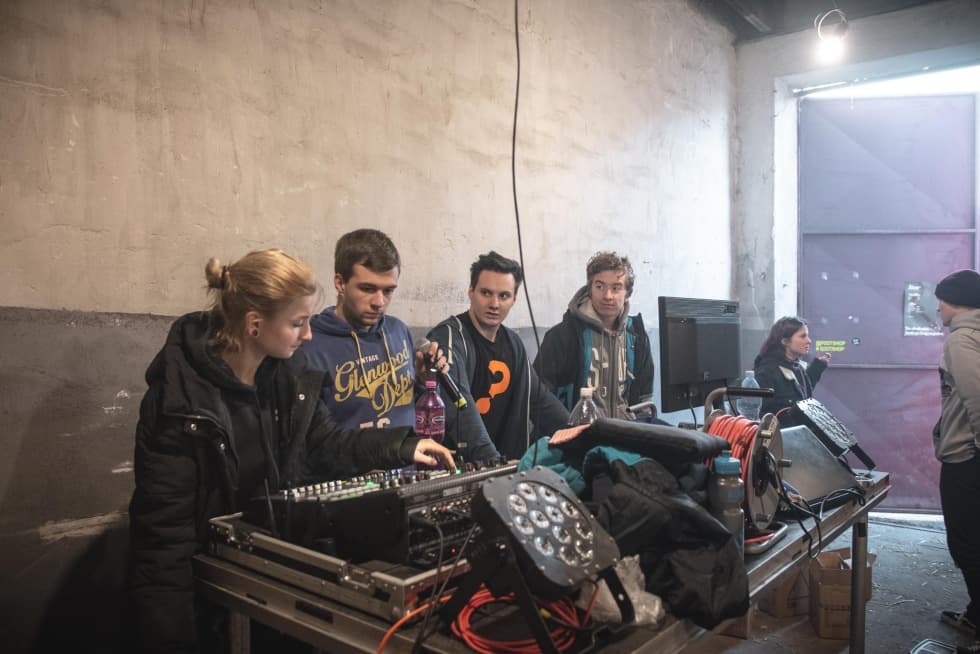 ORGANISATION
Budějovický Majáles is a non-profit organisation established for the purpose of realisation of the eponymous multi-genre festival and the organisation of year-round student activities with an educational focus. The organisation creates an environment that stimulates creativity, engages young individuals in the world of the cultural sector, connects the social bubbles in the city through diverse activities and enlivens public space in an unconventional way.
DATES
22nd - 27th of May, 2022 BUDĚJOVICKÝ MAJÁLES
AUTUMN - All-day Forum - education for the public - date to be specified
The Wonderful World of Bees
Discover the bustling world of the beehive and the life that takes place in it. This educational fairy tale full of songs for children and adults tells the story of a girl, Bela, who turns into a bee. And she discovers that honey is not the only treasure the beehive contains. Far more valuable is love, friendship, dedication and hard work.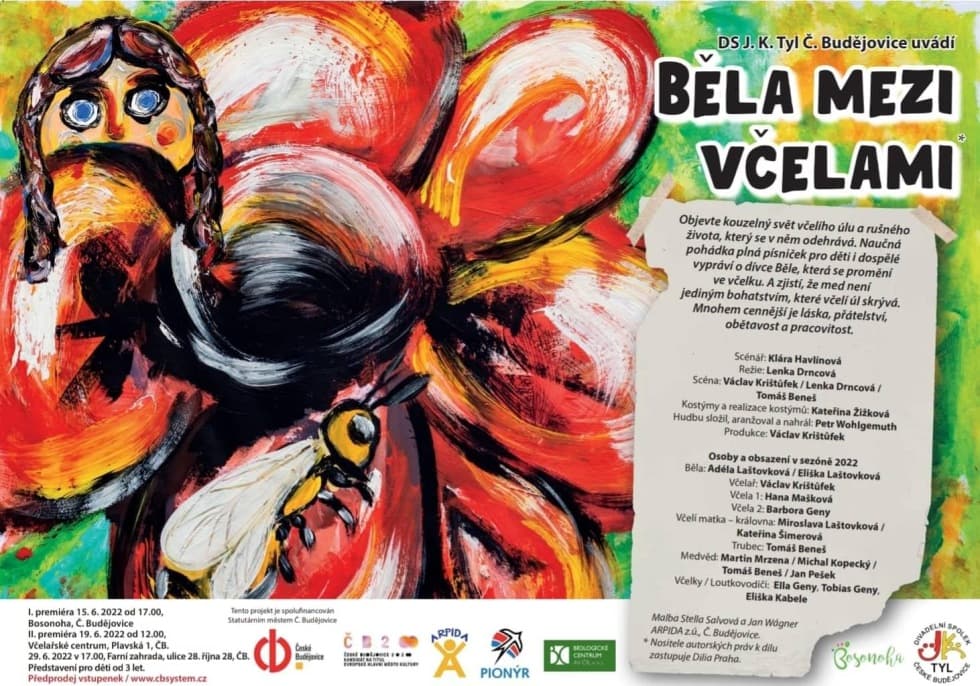 ORGANISATION
The Theatre Association J. K. Tyl in Budweis has been continuously active since September 5th, 1895, when it was founded. At the present it has over 50 members of all ages. Since 1952, a total of 272 productions have been staged (114 evening plays and 158 fairy tales).
DATES
15th of June 2022 Bosonoha, Budweis
19th of June 2022 Včelařské centrum, Budweis
29th of June 2022 Farní zahrada, Budweis
11th of August 2022 family camp for members of the J. K. Tyl Budweis association
30th of September, 2022 Night of Scientists, in cooperation with BC AV ČR, v. v. i. Budweis
Kabinet CB rental
KABINET RENTAL BUDWEIS is a project aimed mainly at local organisers of cultural and social events in the city and its vicinity, it offers the possibility of renting and sharing basic technical and material equipment for their cultural events, including transport to the venue. The project will increase the capacity and awareness of local actors to organise their events in an environmentally friendly way, with an emphasis on reducing municipal waste and the material burden on amateur associations and individuals.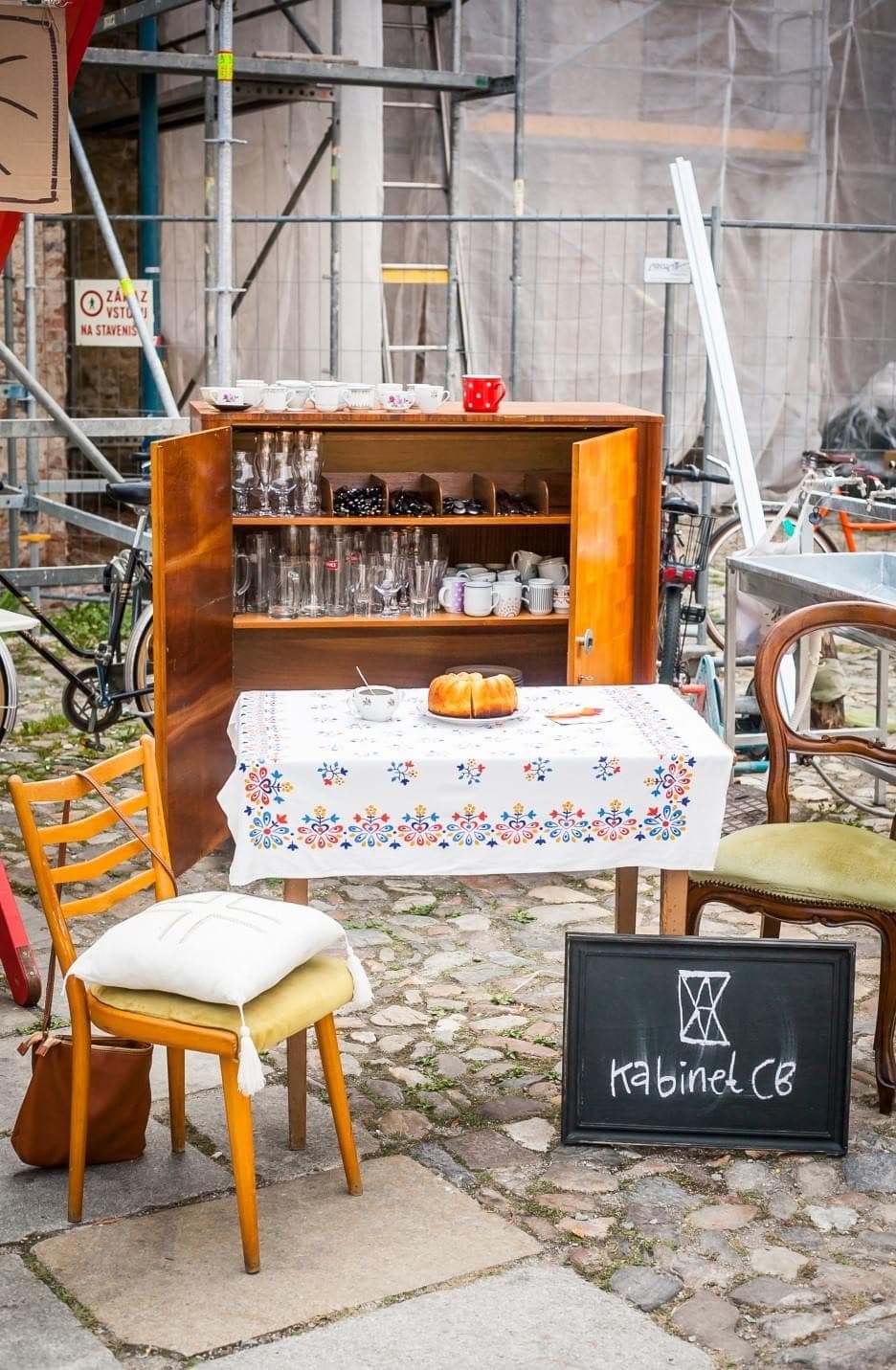 ORGANISATION
"The Re-use Centre is for us the embodiment of what we love in life and what we want to promote. We like to make broken things functional again. We enjoy giving furniture and other objects a new look and new functions. We enjoy meeting people who are handy. We enjoy working with our hands, learning new skills and crafts. And we also think it's right to be considerate of nature and our surroundings. And we like to do all this in Budweis in the form of social entrepreneurship, which is specific in its principles."
DATES
Launched in April 2022
Tell us, how it used to be
Do you also love engaging stories about how things used to be? Join us for a cruise on the St. Rosalie cruise ship on the Malše River and Vltava Rivers. Let's talk about the changes of both rivers and their surroundings during the one-hour cruise. You will be able to compare the current situation on the spot with large-format historical photographs from the collections of Milan Binder. The rivers will give you a whole different perspective of our city. You will be pleasantly surprised.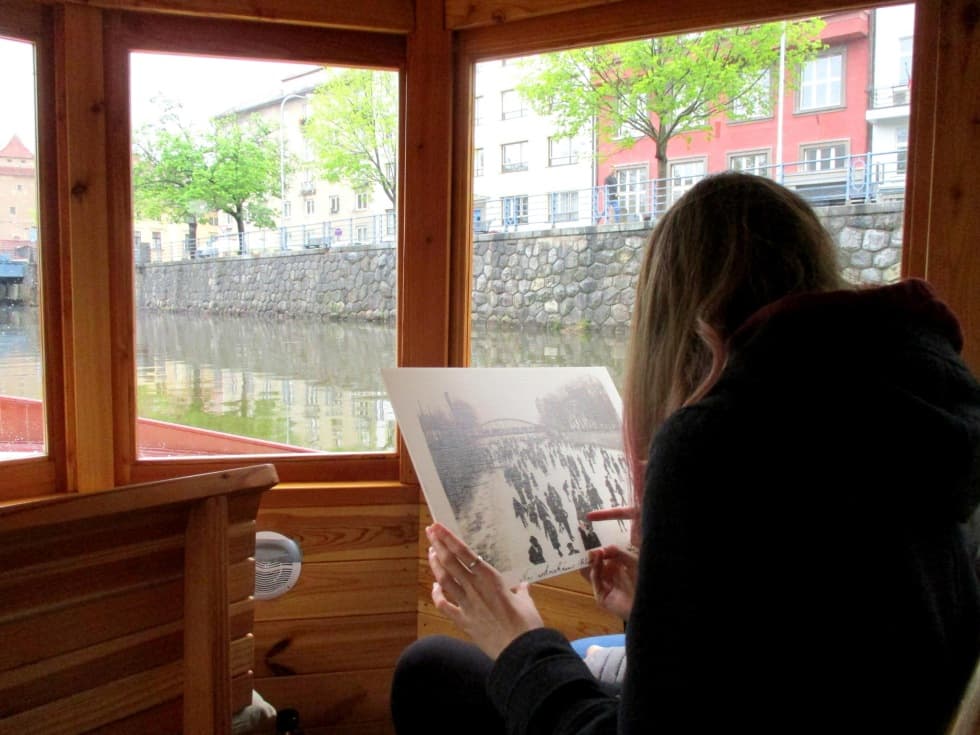 ORGANISATION
The Kultur-Kontakt agency has very rich experience in organising cultural events and providing a cultural program in the city of Budweis. During its 23 years of operation it has staged several theatre performances, night tours and thematic cultural events. It provides the annual programme of the Walking for History series, programmes at town festivals and moderation of corporate, social and period events.
DATES
23rd of May - 1st od August, 2022
New Children's Musicals
The presentation of the new children's musicals Cinderella and The Girl's War in November 2022 follows the successful collaboration between the Vojtěch ZUŠ and the Czech-Budweis authors (M. Bosák & J. Řehounek; Fr. Pittner), who composed the musicals Gingerbread House or Salt over Gold for the ZUŠ in 2018.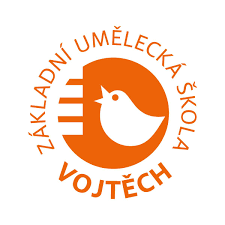 ORGANISATION
Vojtěch Primary Art School
Focuses on the development of children's general musicality, especially their singing ability and their ability to engage in singing and choral practice. Since its establishment in 2016, it has realised or participated in a number of attractive projects (joint performances with Hradistan, Nezmary, Pavel Helan, Pavel Callta, etc.).
Basstard Beatz by Jižní Block
Skate competitions and workshops focusing on street culture and music. One afternoon, no admission. Held at the Four Courts in the Skate Park. An event aimed at Generation Z.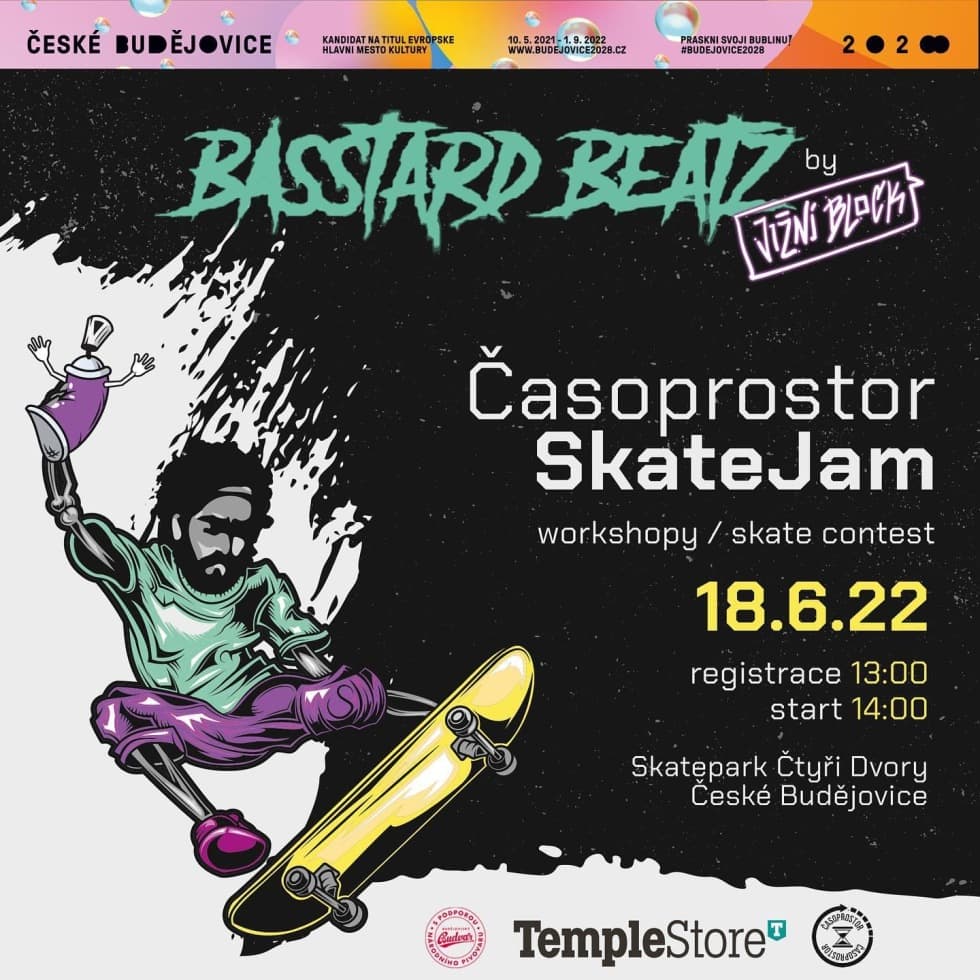 ORGANISATION
Spacetime (časoprostor) SkateJam | Basstard Beatz by Jižní Block
DATES
18th of June, 2022 Čtyry Dvory - Skate Park
The Sixth Sense of the City
The Sixth Sense of the City is a unique interactive exhibition for the general public, but especially for children. Through a series of dramatic and playful art installations that include interactive video projections, mazes, a climbing tower and creative activities, visitors will explore and reflect on the history, geography, culture and future of Budweis.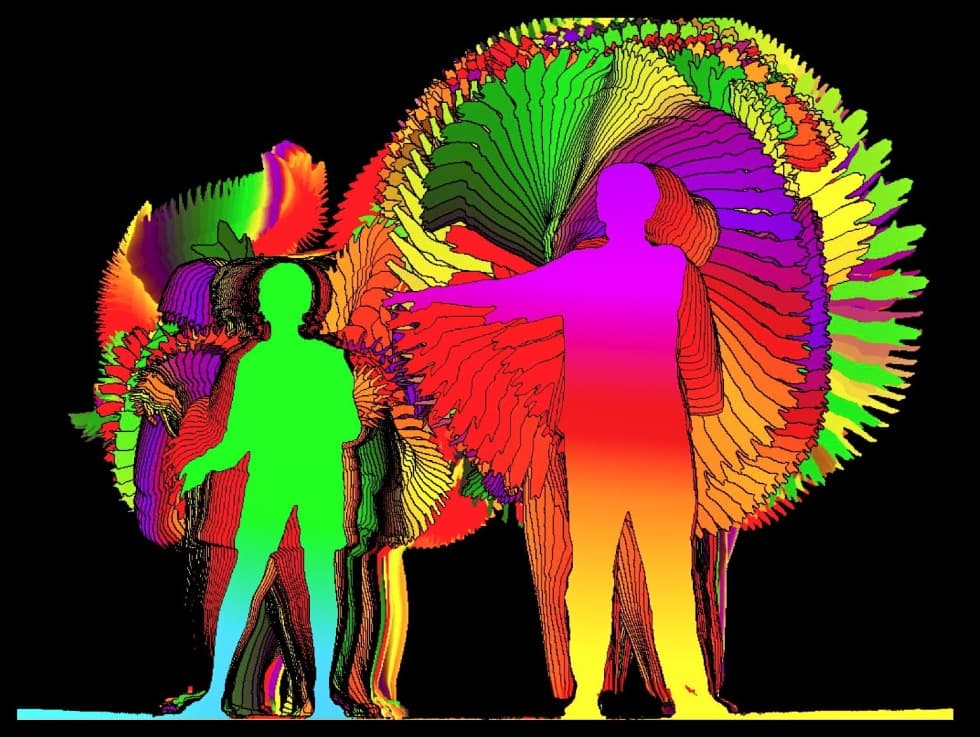 ORGANISATION
Objevárium creates activities that promote education in a non-traditional and playful way. They also rent large interactive exhibitions to other entities in the Czech Republic and Slovakia.
DATES
28th of September - 27th of November, 2022 Exhibition Grounds Pavilon R3
VIP/Media Date 27th of September, 2022
Budweis through the eyes of Jewish youth at the time of Europe's greatest conflict
A project aimed at introducing the youth of Budweis to the life of Jewish youth at the turn of the 1930s and 1940s in Budweis through the magazine Klepy, which was published in Budweis by 4 teenagers before they boarded transports bound for concentration camps.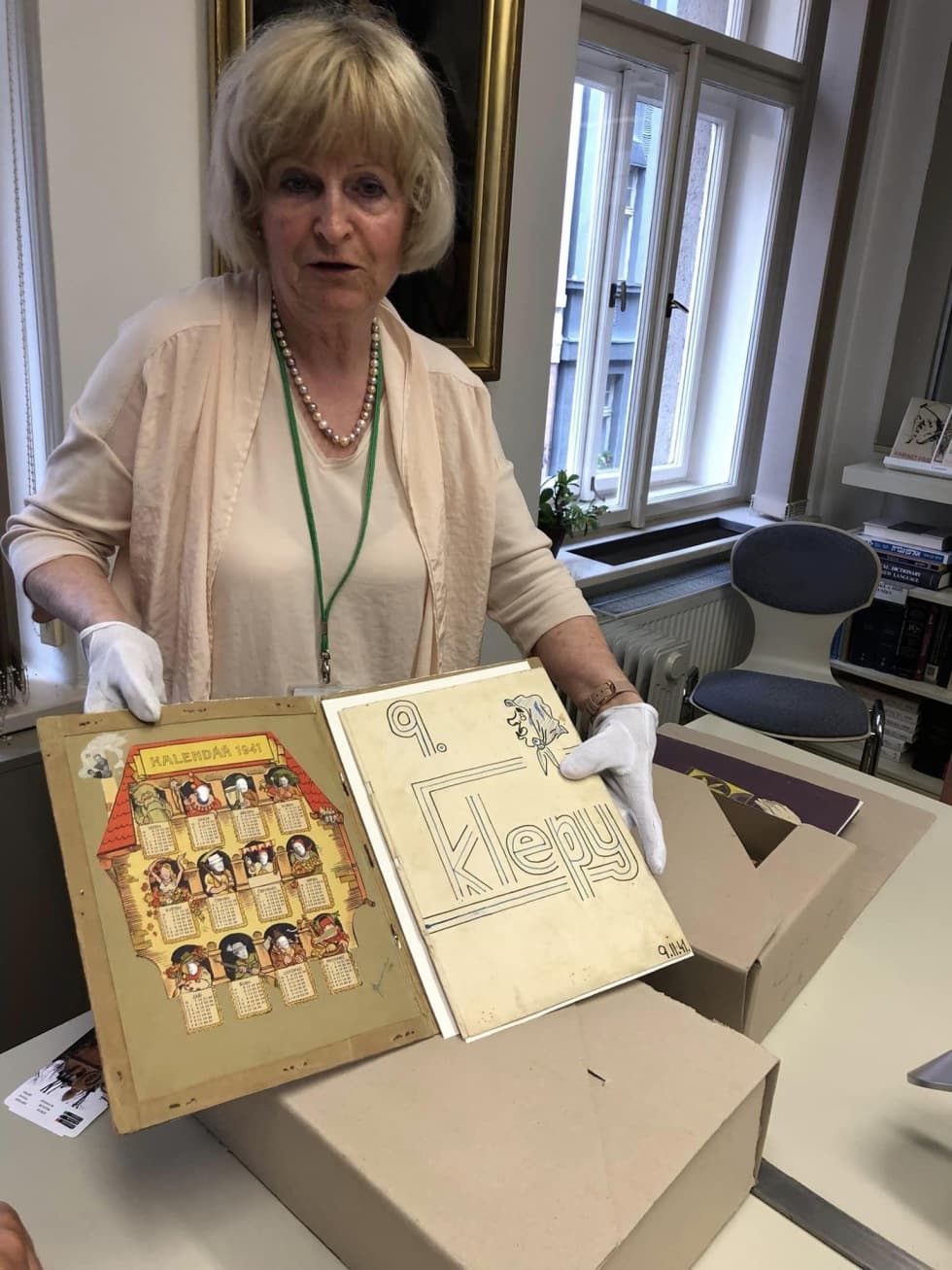 ORGANISATION
A non-profit organisation that has been searching for and recording the memories of witnesses of key moments of the 20th century since 2001. It was founded by a group of Czech journalists and historians who met at press conferences and annual commemorations and who believed that memorials must be given the opportunity to tell their stories in a complete, coherent and detailed way.
DATES
Launched in May, 2022
Directing and acting training for amateur theatre
The Amateur Theatre Directing and Acting Training Project aims to prepare and train a new generation of amateur theatre directors and actors so that the theatre company will be able to present well-crafted performances of an appropriate standard in the future. Education in this area will be provided by cooperation with the 3D Studio at the South Bohemian Theatre. The workshops will be held under the name of the Amateur Theatre Academy with space for 20-25 interested young amateur actors or those interested in theatre who want to improve their acting skills, work with text or improve their movement and speech.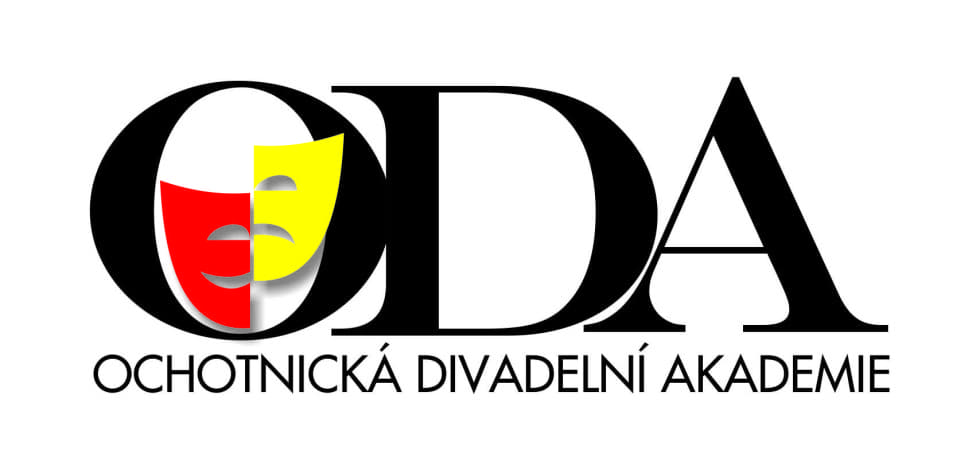 ORGANISATION
The Theatre Association J. K. Tyl in Budweis has been continuously active since September 5th, 1895, when it was founded. At the present it has over 50 members of all ages. Since 1952, a total of 272 productions have been staged (114 evening plays and 158 fairy tales).
DATES
24th of September 10th of December, 2022
POP-UP FABLAB Budweis
The project "Pop-up Fablab Budweis" brings together actors of the creative industries in Budweis to create a temporary Fablab workshop and to present its potential for creative and technical education in the city.
ORGANISATION
Make More
The organisation also runs the Maker Faire festival, which is full of workshops, interactive activities and above all enthusiastic and curious people. Almost everything can be experienced first-hand and many things can be made. Makers present their projects and prototypes.
DATES
21st - 26th of November, 2022
Carousel of Stories//
ECHOes_doZVUKY
The project is directly related to the programme of the international storytelling festival Carousel of Stories, the 6th edition of which will take place in mid-October in Budweis. The festival is the only one of its kind in the whole of the Czech Republic. Through this project we want to take advantage of the visits of foreign guests and realise what the regular festival budget does not allow us: performances and workshops under the guidance of professional storytellers to pupils, students and teachers of schools, as well as actors of cultural organisations.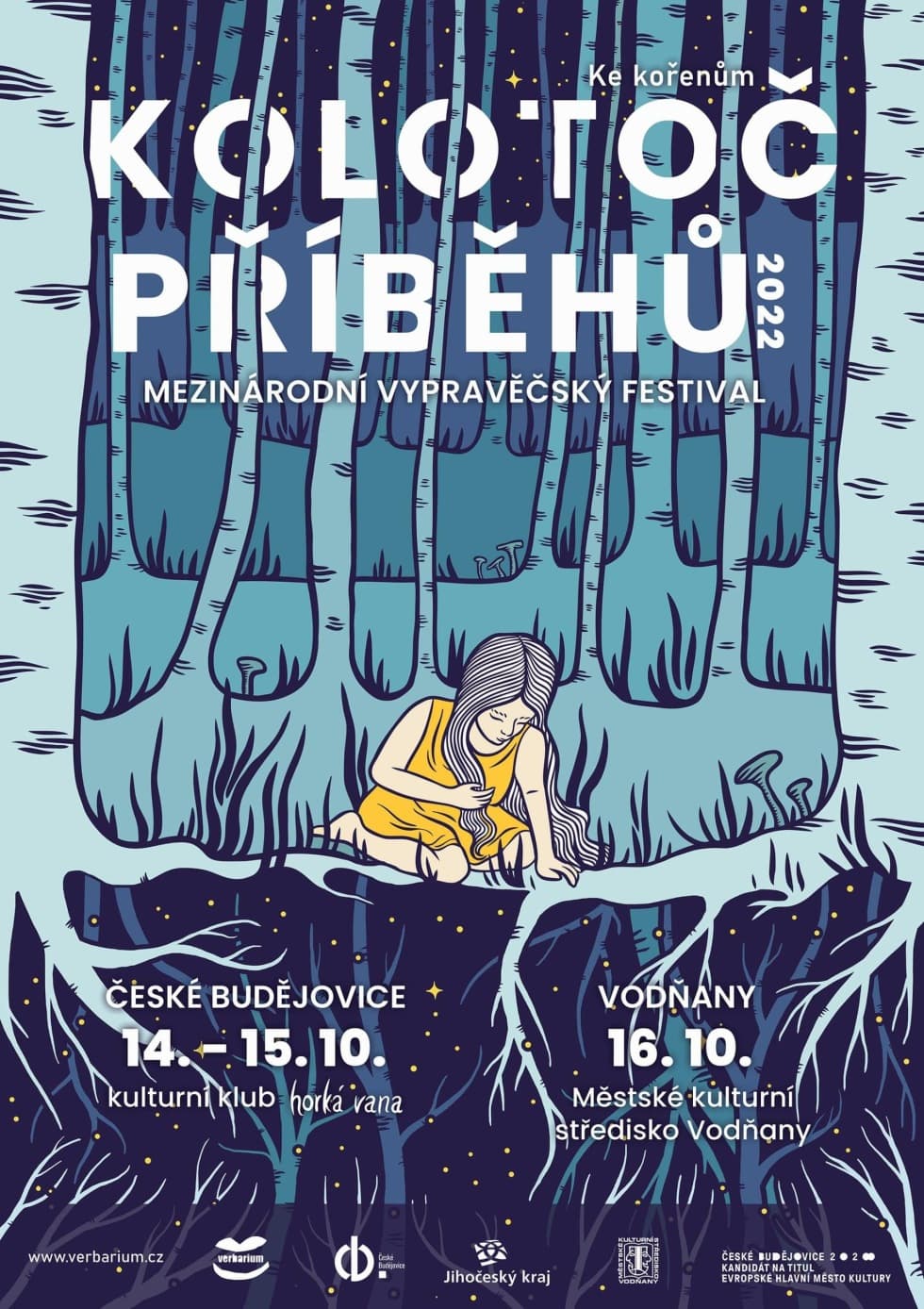 ORGANISATION
Association for the Living Word.
They organise courses, workshops, educational programs, music and storytelling performances or festivals. All this with love for the living word, attention to visitors and the joy of meeting.
DATES
14th - 15th of October, 2022 Horká Vana
16th of October, 2022 Vodňany
ARTPLAC – live culture in a nutshell
An artistic office for the promotion and communication of established and new cultural festivals in Budweis with links to the university environment. The common motivation of these experienced cultural promoters is to improve the quality of promotion of cultural festivals and expand the network of European contacts to bring foreign artists into Budweis.
ORGANISATION
A new association that was founded on the principle of networking. It takes advantage of the synergy of successful cultural actors in Budweis and is open to other people from the cultural environment who are, for example, just starting out. ARTPLAC - Live Culture in a Nutshell is a project of several actors who share the same need - to professionalise the promotion and communication of festivals and to involve students in the organisation of cultural events in the long term.
DATES
Launched in June, 2022